August 27th 2018 Auction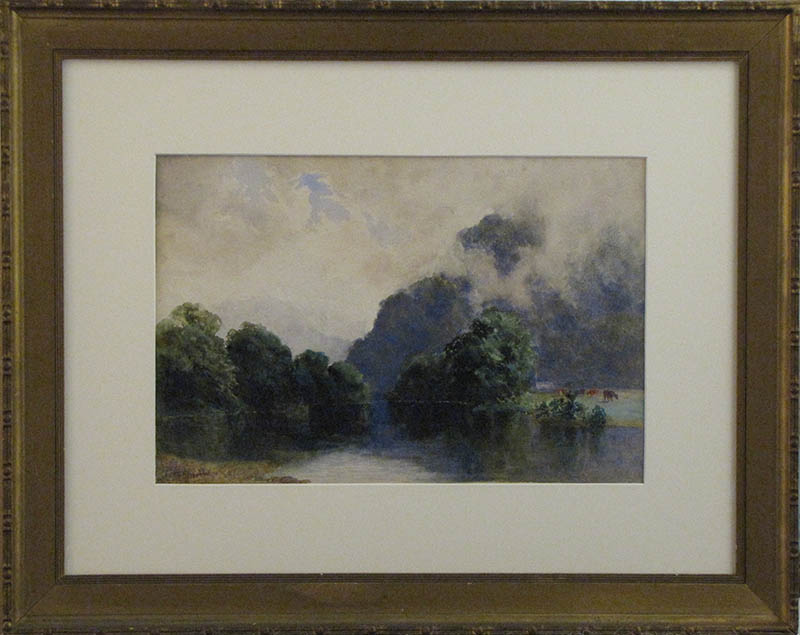 Lot 83
William Charles Piguenit (1836-1914)
Morning Mists on the Conway North Wales 1909
Watercolour
25 x 41cm (sight)
52 x 66cm (fr)
Condition Excellent
Signed lower left.
Verso Label Angus & Robertson Sydney; Rosemary McDonald Conservation Label 2005
Catalogue Details
William Charles Piguenit (1836-1914), was the first Australian born 'professional artist'
Born Hobart he received some lessons from Frank Dunnett, a Scottish painter. From 1850 he was a draftsman in the Survey Office and in 1867 he published six lithographic plates in The Salmon Ponds and Vicinity, New Norfolk. In 1872 he resigned from the Survey Office to devote himself to landscape painting and in 1874 travelled on foot to the Gordon River and painted the Arthur Range, Lake Pedder and Hell's Gates, in 1887 the government bought six of his works on the western highlands, now in the Hobart Art Gallery.
In 1875 Piguenit had moved to Sydney and contributed to exhibitions at the New South Wales Academy of Arts and held a one-man exhibition.
An enthusiastic explorer, he travelled widely looking for natural scenery, where he had 'the first opportunity of illustrating our mountain scenery from the points where it can be studied to the best advantage, from the bottom of the gorges instead of the summit of the ranges'.
He visited the Clarence River and the south coast of New South Wales and among other excursions went to the Tasmanian west coast and Lake St Clair in 1887.
In 1898 and 1900 Piguenit visited Europe and his work was included in the exhibition of Australian Art at the Grafton Galleries in London and the Paris Salon. In 1902 the New South Wales government commissioned him to paint Mount Kosciusko for £175 and £25 expenses. The first Australian-born artist of note, he delighted in mountain scenery and often chose dramatic subjects for his painting. In 1901 one of his finest canvases, 'Thunderstorm on the Darling' won the Wynne prize, Sydney; he also won several gold medals for his careful and sensitive observation of nature.
Estimate $7,500 - $9,500