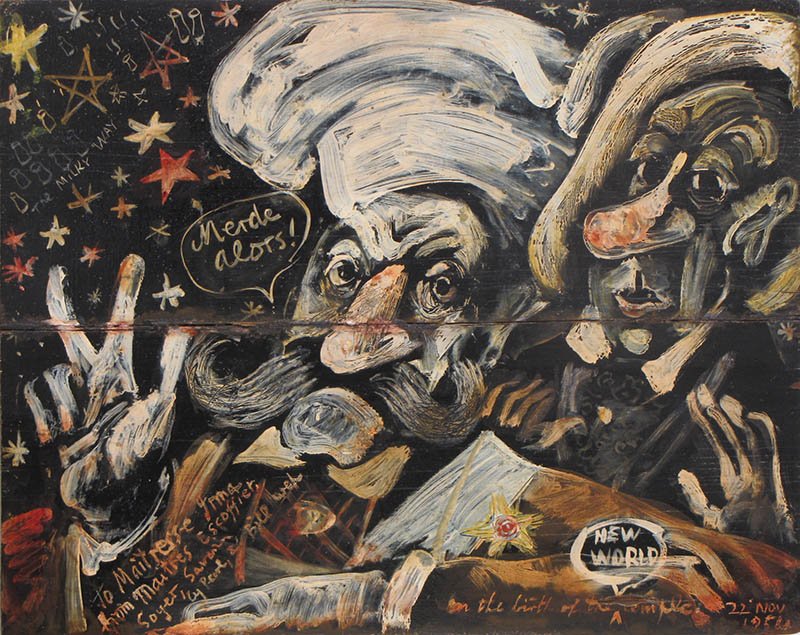 William Dobell attributed (1899-1970)
New World on the birth of the temple 1954
Ripolin on panel
48 x 60 x .12cm
Inscribed lower left
Condition Excellent
Estimate $3,000 - $7,000
Catalogue Details
William Dobell attributed (1899-1970)
(On the birth of the new world temple) 22 November 1954
Ripolin on board, 2 panels
40 x 60 x .12cm
Inscribed 'Merde / alors' 'To Maitresse Irma/ from Maitres Escoffier/ Soyer Savarin/ Cy Pearl & Bill ..'

This work comes from the estate of Paddy Pearl (-2014), wife of Cyril Pearl (1906-1987). It was a work received as a thank you to Cyril's wife Irma for a memorable dinner shared reportedly from a gathering at their house in Paddington. The work was always hung above their kitchen stove and was an integral part of their lives, and was always known to family and friends as 'the Dobell'.

The artwork depicts a central figure of Albert Tucker, to his right Charles Blackman and the painter William Dobell is said to be the artist. The lives of these individuals on this date were in dramatic flux, with a number of the participants engaged in work abroad, … where this dinner is said to have occurred in Paddington, perhaps some participants depicted are honoured as absent friends. The interpretation can take references from a number of sources.

Cyril Pearl illustrious career in journalism in Melbourne in the 1930s and rose to become one of the country's most influential editors in the 40s before abandoning newspapers in the 50s to write 26 books from then until the 80s.

Pearl was intellectually fearless, yet whimsical; erudite, yet earthy. He loved good food, fine wine and rollicking company, yet he could show steely resolve and a merciless pursuit of the truth. He waged war on censorship, exposed the hypocrisies of the Victorian era, cast a newspaperman's eye over historical Australia and, through participation in the awakening intellectual discourse on literature, arts and politics, helped shape the debate.

Pearl studied Russian and philosophy at the University of Melbourne In 1939 became editor of the new Sunday Telegraph, a position he held for 10 years, then in 1949 moved on to edit the Packer magazine AM but, in 1954, turned his back on newspapers to concentrate on long-form writing, to follow his interests in Australian social history, its larrikins and misfits, and to explore his empathy with rebels and radicals. He made a brief return to newspapers as editor of the Sunday Mirror in 1960-61, but the peripatetic life of researching and writing books had gripped him and he spent much of the following two decades overseas.

In 1962 Pearl's first wife Irma died of cancer and a couple of years later he worked with Paddy (Patricia) and they then married 1965. They travelled the world, spent time behind the Iron Curtain in a Walter Mittyish brush with Cold War agents and double agents, lived in Ireland, Britain and the Sydney suburb of Paddington.

Papers from his estate reveal associations with journalists, artists including Russell Drysdale, Lionel Lindsay, writers including Barry Humphries, Max Harris and a young Tom Keneally, and prime ministers from Robert Menzies to Bob Hawke.

From 1994 the couple lived in a grand Georgian house in the Coal Valley near Campania, Richmond in Tasmania. In 2009 Paddy held an auction of the house and estate and moved to care in Hobart. This artwork was one of the few possessions that she retained as a memory and contact of her life and remained with her until the last.

William Dobell (1899-1970)

Dobell studied originally 1924 Julian Ashton Sydney Art School before winning the 1929 Society of Artists Travelling Scholarship which took him to London and further studies at the Slade School of Fine Art. He remained in Europe, studying and exhibiting through the Royal Academy of Arts before returning to Australia in 1939.

Dobell was awarded the Archibald Prize in 1943 with the controversial portrait of Joshua Smith, and again in 1949 and 1960.

Artistically there were two highlights in his later career, a series of paintings of New Guinea in the early 1950s, and a series of major portraits in the late 1950s and early 1960s. He visited New Guinea for three months after Easter 1949. Dobell destroyed his first drawings—for being too much like tourist fare—and began seriously to sketch. He revisited the Territory next year and worked on New Guinean subjects almost exclusively until 1954. In 1954 Dobell was in Italy as has had been awarded representation at Australia's first Venice Biennale along with Sidney Nolan and Russell Drysdale.

He believed that to look to Europe was necessary, given his conventional belief that Australia could not offer the nourishment necessary for great art; but, while his attention was given to preserving styles and genre themes of European art, he responded to his own, immediate, expatriate Australian culture. He acquired 'a complete mastery of traditional techniques' and a noticeably 'democratically egalitarian handling' of a wide range of subjects. Dobell shared with writers of his generation, Patrick White and Hal Porter, and the painters, Russell Drysdale and Albert Tucker, a singularly sharp perception of social manners. Their art focussed upon the articulate and telling moment, and described only the salient aspects of a situation. Each at times was accused of caricature. It may be significant that these artists were tardy in deciding on a career, slow to mature, and, conversely, spectacular and controversial in their fame. Comparisons outside Australia may be made with the British painter Francis Bacon.



Albert Tucker AO (1914-1999) was one of the strongest Australian painters of last century. His expressionistic style of painting was formed during the wartime years, when the city of Melbourne took on a strange and unreal atmosphere. His first major series of paintings, collectively titled Images of Modern Evil, was painted between 1945 and 1947. Tucker lived in Europe and the United States throughout the 1950s. There he refined and extended his subjects, concentrating on Australian myths, which he saw as central to the definition of national identity.

This was the cusp of the next 20 years which were extremely stimulating and definitive of Tuckers career, it developed his depth and knowledge of art and also materials. Travelled to 1947 Japan, then spent the next 11 years in Europe 1948-1959 with shows Amsterdam 1951, Paris 1952. In April, 1953 Tucker and Dixon set off for Rome in the caravan, his show at Nibbi's Galleria near the Pantheon, opened 20 April followed by shows in London 1957, New York 1960, then returned to Australia where he held numerous exhibitions Australian Galleries, Collingwood.

The Nolans arrived in Naples in 1953 and Nolan and Tucker revived long standing friendship and were planning a joint exhibition at the Foreign Journalists Club in Rome for May 1954. Nolan had also just been selected , together with Russell Drysdale and William Dobell, to represent Australia in its first participation in the Venice Biennale, he had also been appointed commissioner. But Nolan gave Tucker two very important pieces of information. Firstly, he told him about the foreign painters' section of the Venice Biennale in which Tucker exhibited in 1956. Secondly, when Nolan arrived in Rome for their joint 1954 exhibition, he showed Tucker photographs of drough-stricken landscapes and their impact on Tucker determined his future subject matter and career. P338

October 1954 Tucker and Dixon had quit Grottaferrata and moved to Rome.. Alberto Burri lived near Tucker and introduced him to a new painting material, polyvinyl acetate (PVA). When Tucker visited Burri at his studio, "I noticed he had a whole stack of cans, blue tins, of stuff called Vinivyl. He said, "It's marvellous stuff. I virtually eat it, I live with it, it does everything that I want it to do. It's the most marvellous that you can possibly buy." Tucker was interested in the 'heavy, thick creamy liquid that one can mix pigment or sand or sawdust or all sorts of things into..I thought, it's exactly what I want because my memories of Australia were of texture first and shape after that." While there are tentative experiments with the medium in 1954, Tucker fully explores the qualities of PVA in the late 1950s, unable to completely command the medium until he had the appropriate subject matter. P344

October 1956 Tucker left for London and produced a Ned Kelly series which he dubbed 'Pan in Armour" together with Totem and Encounter from the Venice Biennale and the new London works including Tough Guy renamed The Gambler 1957. and He organised an exhibition at the Imperial Institute in South Kensington for April 57 which would open two months before Nolan's at the Whitechapel. It would be Tucker's first comprehensive European show.

Burke, Janine Australian Gothic A Life of Albert Tucker. Random House 2003

Charles Blackman (1928-) OBE 1977
Studies 1943-46 After a short period of work as a press artist for the Sydney Sun, 1945, he moved to Melbourne where he married, worked as a cook in restaurants and practised his art when he could. His improved situation began to change when he received the patronage of John Reed. 1960 won Helen Rubinstein Scholarship, 61-62 shows Whitechapel and Tate, 65 tour France

Condition report available.
SOLD