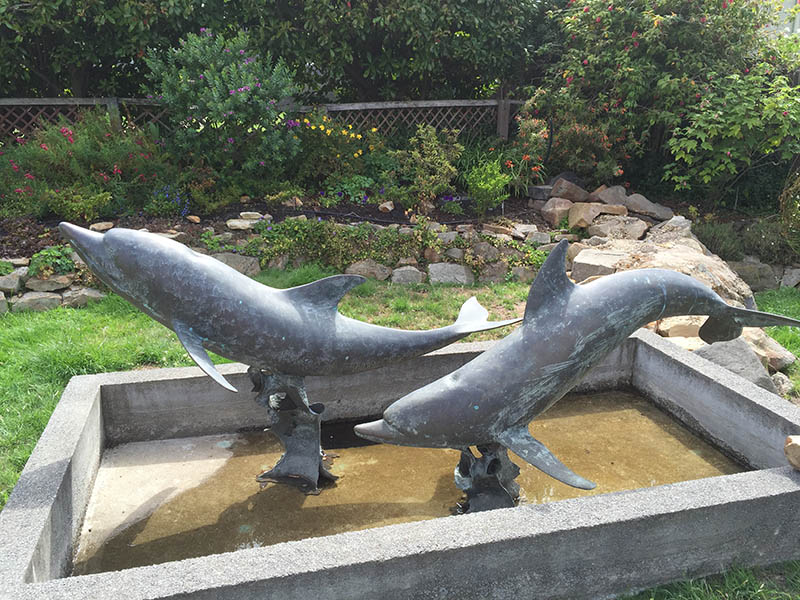 Stephen Walker (1927-2014)
Dolphins Passing Through 1998
Bronze
190 x 113 x 90cm (each)
Sculpture is designed to have water flowing through so that the lead dolphin appears to be riding on a wave. Artists drawings, sketch and design for the work provided with the piece.
Condition Good
Estimate $60,000 - $80,000
Catalogue Details
Born Melbourne and studied at RMIT, Walker came to Hobart 1947. Typical of the period he went overseas for further experience and studied under Henry Moore and further in Italy working in two Italian sculptural foundries between 1953 and 1970 before returning home and establishing his home and own foundry at Campania. He pioneered a unique method of mould heating for the lost wax process that enabled him to produce large scale sculptures very economically. Walker has created a unique presence of major public works predominately in Hobart however it is very rare to have available a work of a smaller scale and also to have one available for acquisition.

A selection of major public commissions since 1969 include
Westpac Fountain Sculpture 'Tidal Pools Sydney 1970, relocated to lower Sandy Bay 2013
Entrance Façade, CBA, Martin Place, Sydney 1970
Antipodean Voyage, French Memorial fountain, Huon Pine, Botanical Gardens Hobart, 1972
Justice, Façade, Supreme Court Building, Hobart 1973
Journey to the Southlands fountain Salamanca Square 1977
The Tank Stream Fountain, Circular Quay, Sydney 1981
Antarctic Tableau, Reserve Bank Macquarie Street, Hobart 1984
The Tasman Fountain, Salamanca Place Hobart 1988
Australian Coat of Arms, Dept Foreign Affairs Canberra 1996
The Australian Stockman Royal Melbourne Showgrounds 1996
Bernacchi Tribute Victoria Dock, Hobart 2002

Many of these works are classified under National Heritage Register.
Living close to Hobart and the connections to the Southern Ocean and Antarctic along with his love of birds and marine life, saw many of the works encompass natural studies of fauna.
SOLD