July 22nd 2019 Auction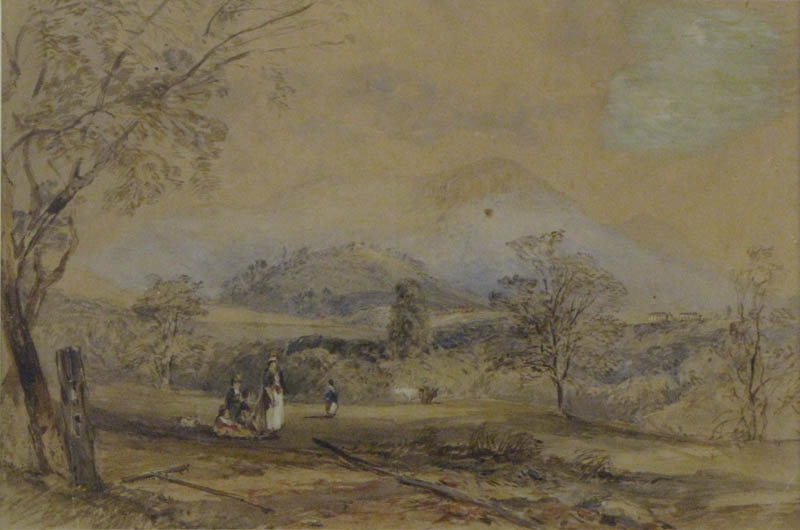 Lot 9
Simpkinson de Wesselow (1819-1906) Britain Australia
(Mount Wellington From Sandy Bay)
Waterolour, chinese white
24 x 37cm (sight) 51 x 63cm (fr)
Condition Excellent, some tears in paper
Provenance Collection William Percy Hood Hobart Framer, by descent. Valuation 1964 Verne Hodgeman Keeper of the Art Galleries. The Tasmanian Museum and Art Galleries.
SOLD
Catalogue Details
Francis Guillemard Simpkinson de Wesselow 1819 – 1906
Simpkinson de Wesselow, naval officer and artist arrived in Hobart in 1844 to work at the Ross Bank magnetic observatory. Along with two others, he was responsible for recording observations on an hourly basis.
Simpkinson worked and lived at the observatory (which still stands in the grounds of government house) and the sight was significant to the many sketched and watercolours he produced in Hobart. Each offered expansive views of the Derwent and Mt Wellington and was just a stones through from the location of his 360 panorama Hobart town in 1948.
In 1845 and 1846, S exhibited in the Hobart Town Art Exhibition with local artists such as John Skinner Prout, Lord Bishop Francis Nixon, and GTWB Boyes, as well as convict artists Thomas Griffith Wainewright and Thomas Bock. He established firm friendship with the circle who had known his aunt, Lady Jane Franklin, all thought she left Tasmania several months before his arrival.
Simpkinson painted avidly during his time in Hobart and also when travelling with Prout throughout Tasmania and Flinders Island and Victoria. Each of his sketches are inscribed with the location and date of the scene pictured, creating a detailed record of his itinerary.
Simpkinson returned to England at the end of 1848 where he would later inherit the name de Wesselow. The 200 or so works of art he created in the colonies were stowed in a case until 1900 when he donated them to The Royal Society of Tasmania on hearing of their wish to acquire "relics of the past history of Tasmaina".