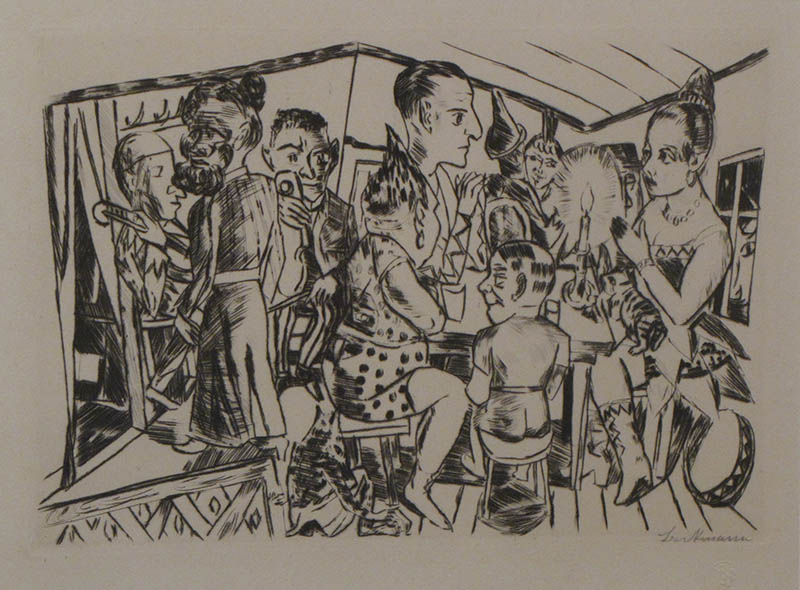 Max Beckmann (1884-1950)
Hinter den Kulissen 1921
Drypoint Etching
21 x 31cm
Signed in pencil lower right
Exhibited Ray Hughes 1998
Condition Excellent
Estimate $7,000 - $9,000
Catalogue Details
Max Beckmann was born in Leipzig in 1884, and completed his studies at the Art Academy in Weimar. He then moved to Berlin, where he joined the Berlin Secession until leaving to help form the Free Secession. During the First World War the artist served as a medical volunteer for a year before suffering a mental breakdown. After this point Beckmann's style changed. From Impressionistic landscapes and grand religious and mythological works inspired by Delacroix, Rubens and Rembrandt, he began to use his work as a form of social commentary. These works depict an era of change and upheaval in Europe and are characterised by confronting subject matter, strong linear marks, angular forms and foreshortened picture planes. Notable among his technique where woodblock, drypoint etching and lithograph prints.

Hinter den Kulissen, from "Jahrmarkt" 1921 (published 1922)
Drypoint. Edition number 75. This work unnumbered. Signed in pencil lower right. Published by Marees Gesellschaft with blind stamp lower right. Hofmaier 193 B In Jahrmarkt (The Annual Fair), Beckmann imagines the world as a travelling carnival teeming with an eclectic cast of actors, dancers, and circus entertainers who perform in the theatre of life. Beckmann casts himself as a carnival barker in the series' opening plate, ringing a small bell to announce the show, and cajoling viewers to enter the Circus Beckmann, a curious realm of outsiders ad misfits. Many of the protagonists are friends and acquaintances of the artist: he even includes his wife Minna in the series, who famously appears along with Beckmann balancing on a tightrope. As the scenes of the portfolio unfold, a pageant of players takes the stage: a tall man, a sharp shooter, a snake charmer, exotic dancers, musicians, and other circus entertainers perform in succession. In one plate from the series, Bechmann presents a carousal crowded with a diverse lot of humanity, an apt metaphor for the apparent aimlessness of life. The series was inspired in part by Beckmann's visits to the Prater, a Viennese amusement park, where he observed the performers and visitors and sketched them from life. Justly celebrated for its incisive observations on the human condition, Jahrmarkt is a brilliant example of Beckmann's mature graphic style and seminal publication of German Expressionism.