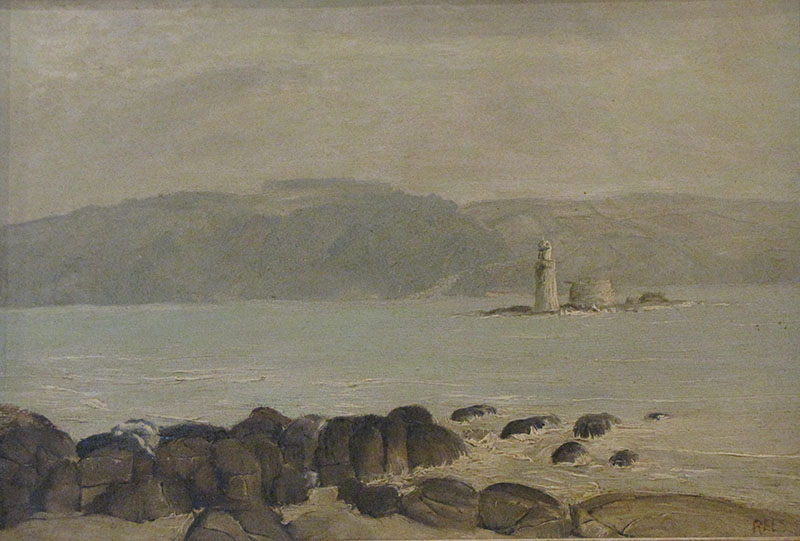 Lot 66
Lloyd Rees (1895 - 1988)
Plymouth Sound /Barrenjoey Light House 1923
Oil on board
23 x 33cm (sight) 36 x 46cm (fr)
Signed lower right
Condition Very Good
Provenance Presented to Lloyd Rees's sister; by descent
Exhibited The Art of Lloyd Rees Exton House, Brisbane 22 July to 1st August, 1924 Cat 3 'Plymouth Sound, oil.'
Exhibited Queensland Art Gallery / Warana Festival A Tribute to Lloyd Rees Sept – Oct 1975 Cat no 13 'Barrenjoey Lighthouse'
Estimate $20,000 - $30,000
Catalogue Details
An outstanding artist with a career covering many decades, Rees early studies and interest lay in careful studies of topography and buildings. From Brisbane he moved to Sydney 1917 and 1923 marked his first trip overseas. Lloyd stayed at Kingsand in Cornwall with the Brantons, people he met on the voyage to England. This painting was presented to Lloyd's sister Enid and her husband Merlin, of Brisbane; hence by descent.

This painting is listed as 'Plymouth Sound' however it is also labelled 'Barrenjoey Lighthouse' Further to research and reference through the Allan and Jan Rees, the following would seem fitting, and that original title of this painting was Plymouth Sound.

Exhibited The Art of Lloyd Rees Exton House, Brisbane 22 July to 1st August, 1924 Cat 3 'Plymouth Sound, oil.' Ref Renee Free's Lloyd Rees, 1972 Cat 09,' Plymouth Sound 1923 Oil 9 3/8 x 13 3/8. Collection of Mr Merlin Rees, Brisbane, Qld' p.109. Merlin died at the end of 1971 and it is presumed that he provided the data for this work to Renee Free for the publication in 1972. Label on verso Queensland Art Gallery 'Barrenjoey Lighthouse/ From the collection of Mrs E Rees (and late Mr M Rees)' Exhibited Queensland Art Gallery / Warana Festival A Tribute to Lloyd Rees Sept – Oct 1975 Cat no 13 Barrenjoey Lighthouse, oil 24 x 34cm Details for this catalogue presumed to have been provided by Enid, who perhaps had not remembered the title, provided an erroneous one.

Notes
This is the only work by Lloyd Rees within the estate and by descent from his sister Enid. The Plymouth Sound and Barrenjoey Lighthouse share the same medium, dimensions and provenance, in all catalogues and book references. The subject is certainly not Barrenjoey lighthouse which is on a headland. Topographically the scene could be the lighthouse on the western end of the Plymouth Breakwater, with Fort, these features being easily visable from where Lloyd's accommodation in Cornwall. The style of this painting is consistent with his other Cornish paintings (see illustrated in Renee Free Lloyd Rees 1972 p. 109 Cat 11 A Cornish Village 1923, Cat 12 The Old Fort, Portsmouth Harbour 1923, Cat 14 Cornish Coast 1923). (Also see additional image 'The Lane' 1924) There is no record of anything titled Barrenjoey Lighthouse, certainly from the 1920's period, prior to the Warana Festival.

Consistent with evidence of catalogue records and family ownership, it is confident to say that this is the painting originally know as Plymouth Sound.
SOLD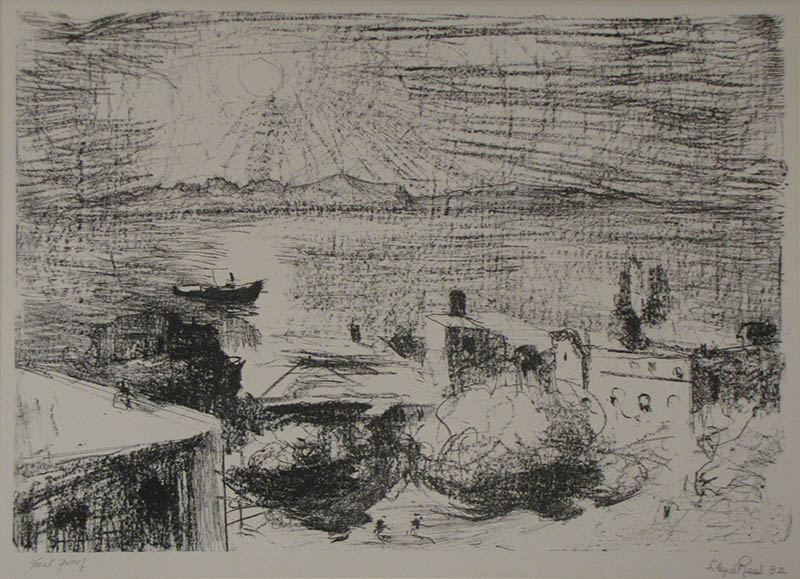 Lloyd Rees (1895 - 1988)
From the University Library 1982
Lithograph
39.5 x 57cm (plate) 56 x 76cm (sheet)
Signed lower right below plate, inscribed 'Trial Proof' below plate lower left by Fred Genis
Provenance Artists Estate; Private Collection
Condition Excellent
Estimate $1,200 - $1,400
SOLD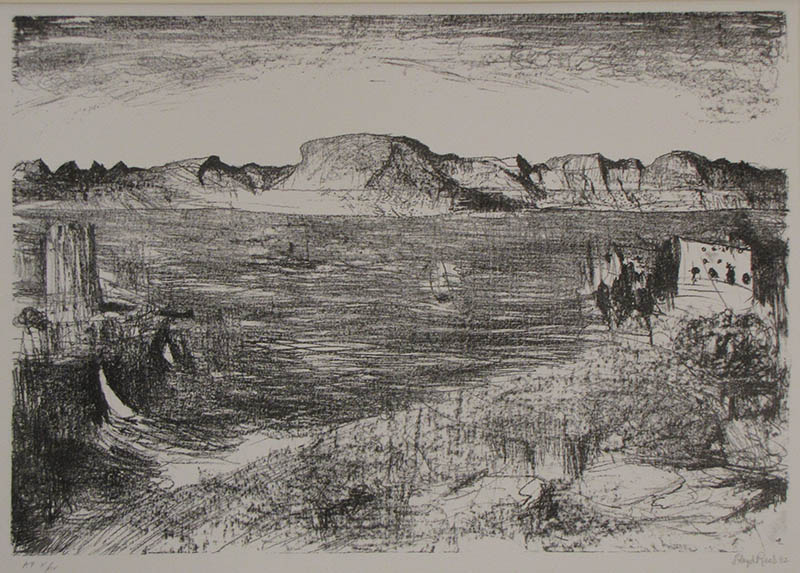 Lloyd Rees (1895 - 1988)
Afternoon on the Derwent 1982
Lithograph
39.5 x 57cm (plate) 56 x 76cm (sheet)
Signed lower left below plate, inscribed 'AP X/XIV' lower right below plate
Provenance Artists Estate; Private Collection
Condition Excellent
Estimate $1,200 - $1,400
SOLD