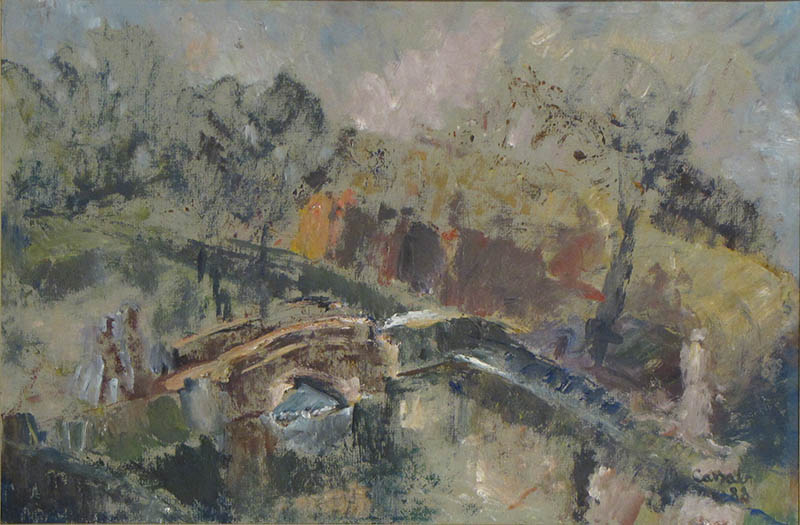 Judy Cassab AO, CBE (1920 Vienna, arr Aust 1951 – 2015)
(Figures on Bridge) 1988
Oil on board
33 x 48cm (board)
Signed lower right
Exhibited Mossgreen Nettlefold Collection 2011
Condition Excellent
Estimate $1,200 - $1,400
Catalogue Details
Among Australia's most successful portrait painters Holocaust survivor, society darling and highly acclaimed portrait painter, Cassab was first woman to win the Archibald twice.

She studied in Europe and with her husband arriving in Aust 1951, an early letter of introduction to Charles Lloyd Jones, whose family owned David Jones, re-established her portraiture career.

Cassab immersed herself in Sydney's art scene, befriending artists such as Jeffrey Smart. Talented, beautiful and exuding European sophistication, she quickly became a media favourite, too. From 1952, when her work was included in a group exhibition, she was not only regularly reviewed, but also featured in society pages.

Prizes came, and solo exhibitions, which numbered more than 70 in her lifetime. Then, in 1957, the first of many trips overseas to browse galleries and paint portraits. From the 1950s to the 1970s, Cassab was in demand internationally, including among British, Indian and Thai royalty. Work included portraits 1961 Royal Princess Alexandra, Duchess of Kent, 1962 Queen Sirikit of Thailand for Aust Official gift commissioned by Menzies, 1962 UK Lord Astor. 1964 Won Perth Prize again, her works admired by Drysdale.

Commissions at home, including Opera House portraits of Joan Sutherland and Robert Helpmann, were overwhelming – although she increasingly preferred non-commissioned portraits of friends, which could be more experimental. Artist friends Stanislaus Rapotec and Margo Lewers were the subjects of her 1960 and 1967 Archibald winners.

A boon for the development of Cassab's style, which balanced the figurative and abstract, and her less celebrated landscapes, was the first of numerous visits to central Australia in 1959. She came to describe it as her "spiritual home". During the 1960's her abstract and portraits flourished, however she resisted pressure to choose one over the other.

Her usual pattern was to spend 2 months a year in Europe, painting and exhibiting. Her 1981 Paris exhibition which then toured in London, was reviewed by Edward Lucie-Smith Art International 1982 "Judy Cassab is now one of the most distinguished Australian painters, finding her own terms for the experience of the Australian landscape like the late Russell Drysdale and like Sydney Nolan immediately before her"

In 1988 she was awarded the AGNSW Cite International des Arts Residency and stayed April – June 1989.

"The postmodern architecture of the Pompidou Centre, with its colour-coded water pipes, ventilator shafts and electricity lines, all placed on the outside of the building, gave her an idea for saying something new about a city which too many artists had commemorated. A series of paintings was inspired by the surreal juxtaposition of the architecture of Old Paris and the Pompidou's white funnel shaped ventilator shafts, which she called the 'Ned Kellys' During this period she also travelled through Place des Vosges, Giverny, Chambord, Vienna, Leopold Museum, Belvedere, Budapest.

Ref Lynn, Elwyn Judy Cassab Places, Faces, Fantasties 1981
Niall, Brenda Judy Cassab A Portrait Allen & Unwin 2005
These works come from the Nettlefold Estate.